Coach Gonzalez and 11 SEHA players nominated for the EHF All-star team of 2016/17
Author: SEHA GAZPROM LEAGUE, Published: 28.04.2017.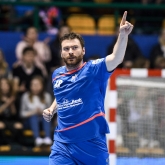 The end of the Champions League season is getting closer with only a few matches to be played. Macedonian Vardar, current SEHA champions, booked their ticket for Cologne with two wins against Flensburg, while Telekom Veszprem, two time champions of regional league has one more half to play. Hungarians will meet French Montpellier on Sunday, in their second leg match, having +3 from their first quarterfinal encounter.
Before the grand finale, the EHF nominated 45 players and five coaches for the all-star team of 2016/17. There are 11 SEHA players and one coach among nominees:
Best goalkeeper:
Ivan Stevanovic (PPD Zagreb)
Best left wing:
Timur Dibirov (Vardar)
Best left back:
Momir Ilic (Telekom Veszprem)
Best line player:
Rastko Stojkovic (Meshkov Brest)
Andreas Nilsson (Telekom Veszprem)
Best right back:
Dainis Kristopans (Meshkov Brest)
Alex Dujshebaev (Vardar)
Best right wing:
Zlatko Horvat (PPD Zagreb)
Best defender:
Timuzsin Schuch (Telekom Veszprem)
Ilija Abutovic (Vardar)
Best young player:
Blaz Janc (Celje PL)
Best coach:
Raul Gonzalez (Vardar)
Cast your vote here:
All-star team 2016/17