SEHA - Gazprom champions Vardar secure Champions League F4 spot
Author: SEHA GAZPROM LEAGUE, Published: 27.04.2017.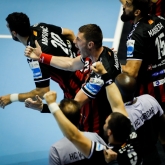 Reigning SEHA - Gazprom League champions Vardar have managed to put yet another jewel in the crown of an amazing season securing a place in Cologne, on EHF Champions League Final Four tournament with a dominant 35:27 (61:51) win over German Flensburg in quarter-finals second leg in Skopje. Cindric was once again dicatating Vardar's offensive tempo finishing the match with 7 goals while Dujshebaev and Shishkarev added 5 each.