Best 7 of the Final4 in Brest awarded – Canellas MVP
Author: SEHA GAZPROM LEAGUE, Published: 09.04.2017.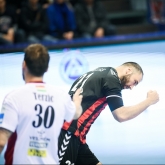 Four players of the Best 7 and the Most Valuable Player (MVP) of the Final 4 SEHA - Gazprom League 2017: Vardar Skopje did not only win the trophy, but imprinted the All Stars most. Spanish centre back Joan Canellas was announced tournament MVP, in addition Timur Dibirov, Vuko Borozan and Ivan Cupic were awarded in the Best 7. Runners-up Telekom Veszprem were represented by three players, third ranked team of Brest by one.
The Best 7 of the 2017 Final 4 SEHA Gazprom League:
Goalkeeper: Mirko Alilovic (Telekom Veszprem)
Left wing: Timur Dibirov (Vardar)
Left back: Vuko Borozan (Vardar)
Centre back: Joan Canellas (Vardar)
Right back: Dainis Kristopans (Meshkov Brest)
Right wing: Ivan Cupic (Vardar)
Line player: Andreas Nilsson (Telekom Veszprem)
Best defenders: Laszlo Nagy (Telekom Veszprem)
MVP: Joan Canellas (Vardar)
Overall SEHA Gazprom League 2016/17 top scorer: Blaz Janc (Celje) 120 goals