Perfect 15th birthday for Meshkov Brest
09.04.2017.

•

SEHA GAZPROM LEAGUE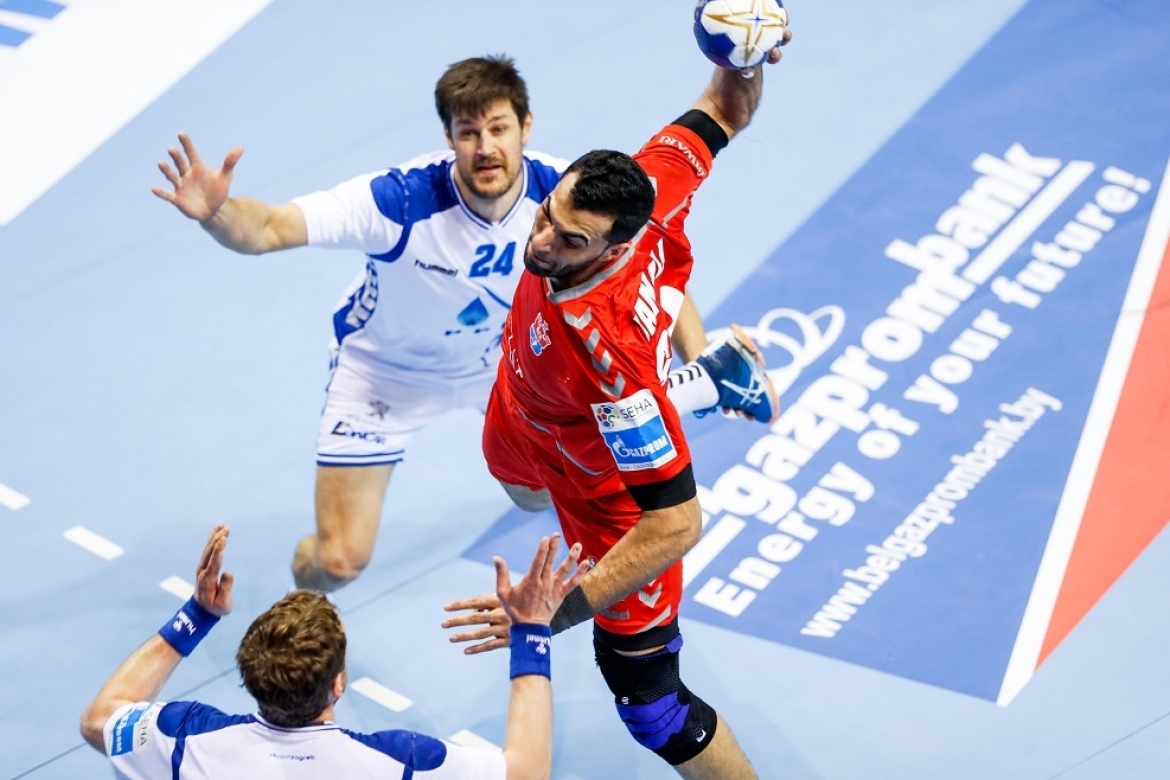 Thanks to 20 saves of goalkeeper Ivan Pesic against his country-fellows of PPD Zagreb, Final4 host Meshkov Brest took the bronze medal of the 2016/17 season of the SEHA - Gazprom League. After their unlucky semi defeat after a penalty shoot-out against Veszprem on Friday, Meshkov were back on track on Sunday and took a well-deserved 23:19 (14:10) victory against Zagreb in the bronze medal match. By this result, Meshkov took revenge for the 23:24 defeat in the 2016 bronze final in Varazdin against Zagreb.
Best scorers were Rastko Stojkovic (four goals for Brest) and the PPD duo Zlatko Horvat/Dobrivoie Markovic with each five goals for Zagreb. Stojkovic missed the opportunity to become overall SEHA Gazprom League top scorer by 106 strikes. Finally, Celje's wing Blaz Janc tops the ranking by 120 goals.
Bronze-medal match: Meshkov Brest (BLR) vs PPD Zagreb (CRO) 23:19 (14:10)
Exactly 15 years ago, Handball Club Meshkov Brest was re-founded, thus the bronze final was also the anniversary for the Belorussian champions. Thus, the frenetic fans in the arena had a lot to celebrate on Sunday. In the start of the match, the team was in birthday mood, starting in a very dominant way. On the other end, Zagreb started as weak as on Friday against Vardar and needed seven minutes to scorer their first goal. Six minutes later, at the score of 2:6, new interim coach Slavko Goluza already took his fist time-out.
The main reason for the low scoring percentage of the Croatian record champions was a Croat: Goalkeeper Pesic, who had an intermediate saving rate of 65 percent. After 21 minutes, Pesic already had ten saves on his tally, backing his side enormously. And even as the Victoria sports hall was not as crowded as on Friday, the fans were another backing.
But from the middle of the first half on, Zagreb improved, mainly in attack. Led by Markovic and boosted by the saves of Matevs Skok, PPD reduced the deficit to three goals intermediately. But Meshkov still were on fire, taking a fully deserved 14:10 to the locker rooms.
Right after the re-start, Zagreb had their strongest period. The 2013 SEHA - Gazprom League winner improved in defence and attack and took the profit from the saves of Ivan Stevanovic. At 16:14, Zagreb had nearly bridged the gap. Meshkov did not have the same momentum on their side like in the first half, as PPD stood much stronger in defence and played more efficient in attack.
But Brest still could count on their goalkeeper, while the time was ticking against Zagreb. Pesic's 18th save in minute 55 at the score of 22:18 finally was the decision in an intense match.