A matter of motivation- statements ahead of the Zagreb vs Brest bronze final
08.04.2017.

•

SEHA GAZPROM LEAGUE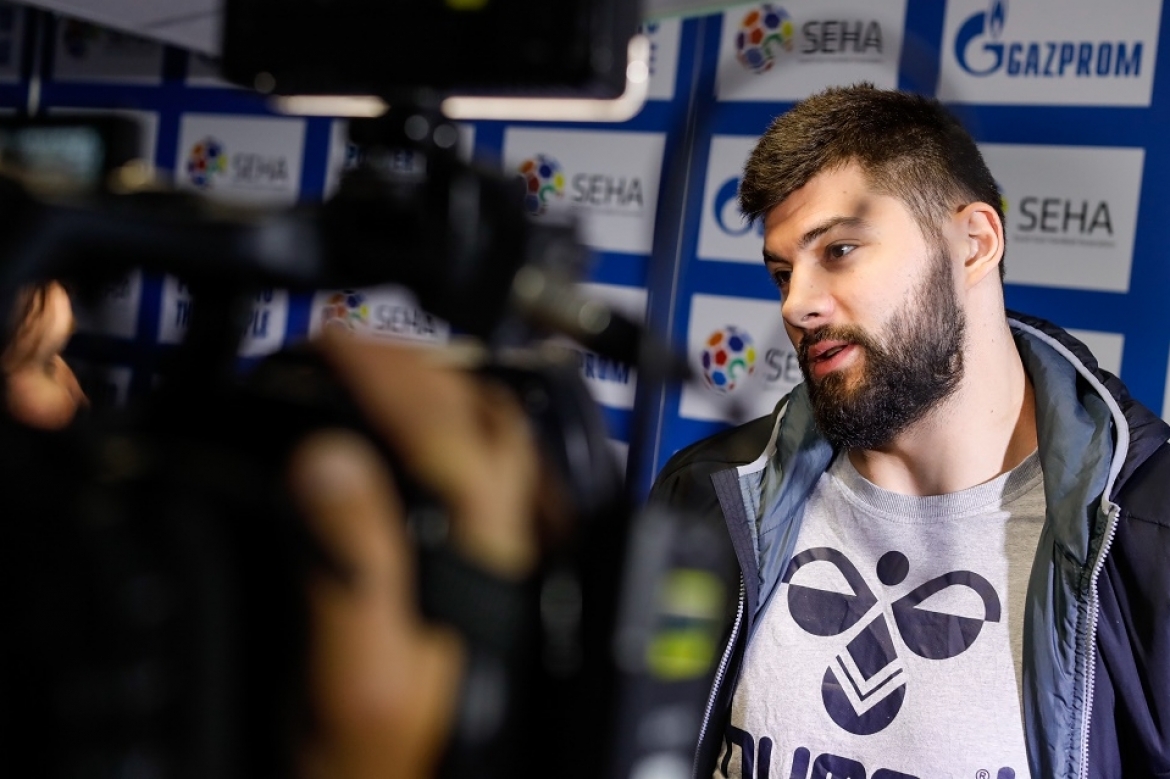 On Saturday morning, all media at the Final 4 SEHA - Gazprom League in Brest, Belarus, grabbed the chance to interview players and coaches during the media day in the Victoria Sports Hall.
Here are the statements of players and coaches one day prior to the bronze-medal match of PPD Zagreb vs Meshkov Brest on Sunday, 18:30 Belorussian times (17:30 CET).
PPD ZAGREB
Slavko Goluza, coach:
Defence was the major topic of our preparation today, the attack was functioning well in our defeat against Vardar. We have managed to shift into the higher gear, play that fast-flowing handball but defence was simply poor. It seems like players lack motivation or even focus to deliver a decent defensive performance and that's certainly a thing we'll have to work on.
Domagoj Pavlovic, player:
We have, in previous seasons, managed to set some high standard. This season we did not manage to achieve all of them. I mostly mean not reaching the Champions League quarter-finals. However, we have achieved some other goals like the SEHA Final4 and getting through the group phase in CL and that's what we have to be proud of - in the end we still have a chance to grab SEHA bronze. The World Championship in France proved to be a big problem for us with many of our players returning injured or exhausted without the right time to get some rest or train with the team and prepare with the rest of the team, which was obviously not easy for all of us to handle in the end. The change of the coaches are also not a thing that suits players best as each coach has his own both attacking and defensive plays but at the moment - we have what we have. I can say I personally feel great playing in this club and I'm planning to stay for at least a year or two. I'd say we did not play the best season we can that's for sure but I see us bumping back next season.
Stipe Mandalinic, player:
It's clear that I got out of breath after the World Championship in France to put it that way, like I've lost my self-confidence which is extremely important for a player on my position. However, I'll be back, I'll play on the highest level again but this time I have to work on consistency which is the only way to rise. Coach changes are not an easy thing to go through but we have what we have, We'll have a good, young team next season as well and in case we manage to sync everything we're up to another great season. Considering Meshkov tomorrow, we know them well and they know us. This is also a re-match of last season's bronze-medal game so I doubt there'll be any surprises on both sides. We simply have to go out there, play best we can and see what it brings us in the end.
MESHKOV BREST
Sergii Bebeshko, coach:
There were more fans at our semi-final than at any point of the season. I think the atmosphere was amazing. Of course, it's always easier to play on your own court, supported by the stands, and of course I think the fans contributed a lot to us playing well - playing a draw with one of the strongest teams in the world. Though the outcome was similar, the semi-final wasn't like 2016. Now we are in the same condition like Zagreb. As I see, our players are still reliving yesterday's match, but I think we will recover until tomorrow evening, because a lot of players were playing yesterday, everyone was involved.
Ivan Pesic, goalkeeper:
What a deja-vu, another semi-final loss against Veszprem brings us another bronze-medal match against Zagreb. It was a great chance we did not use in the last attack of the semi-final, but: That's handball. I can say this season was an another step forward considering quality and of course it's bringing more and more fans to the hall. We have to clear our minds for tomorrow, go out there and work for the best possible result.
Viacheslau Shumak, player:
The crowd was awesome, the support was very good. The fans in the semi-final were superb, we didn't want to let them down, of course, but unfortunately we performed like this and lost. We were hoping for a win and were preparing only for a win. We didn't even think that we could lose, but it ended up being a déjà vu. Of course we will try to win tomorrow's match against Zagreb. We lost some stamina in the semi-final but I think we'll cover by tomorrow.
Iman Jamali, player: Yesterday's game brought us down, but now we have to fight for the bronze medal. The support was amazing and I feel so sorry that we didn't manage to win. But I want to express my gratitude to all our fans who came here and made the atmosphere of the match so amazing.