Statements after the Vardar vs Zagreb semi-final
07.04.2017.

•

SEHA GAZPROM LEAGUE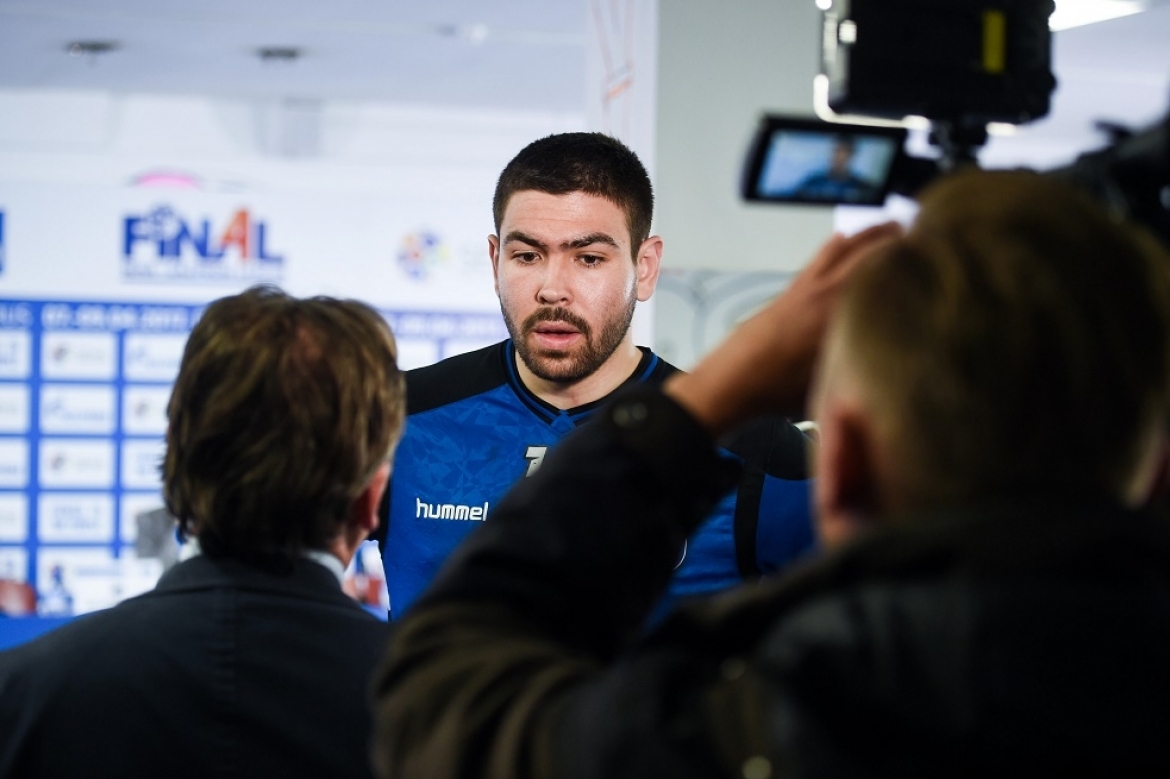 In their statements, coaches and players of PPD Zagreb and Vardar Skopje agreed on the strength of the Macedonian side, which had beaten Zagreb clearly 36:28 in the first semi at Brest.
Here are the post-match comments:
Raul Gonzalez, coach Vardar Skopje:
We are happy after this important win, as we wanted to play the final. We started very good and concentrated with a strong 6:0 defence, we were nearly perfect. In the second half, it was nearly the same, we were really strong. We are happy to be in the final - regardless the opponent, as we have no influence on which team we face.
Alex Dujshebaev, player Vardar Skopje:
We played our best and showed a great performance, mainly the first half was very well and we managed to get an important difference of six goals. The second half was not that good, but we kept our concentration high and had ad respect for Zagreb. We did our best to be in this final.
Igor Karacic, Vardar player:
It was an important win, especially after the loss against Metalurg in the Macedonian championship last week. Ahead of the match, we were well aware that only a team performance can help us win this semi and luckily for both us and our fans we've managed to pull it off today. We've opened the match in a great manner grabbing an early lead and that was the key.
Stojance Stoilov, Vardar player:
Ahead of the match, we knew that Zagreb will be highly motivated to surprise us, but with that on our mind and a motivating loss against Metalurg last week we've managed to open the match fully focused and, as it later proved, seal the deal early.
Mijajlo Marsenic, Vardar player:
We want to take this trophy back to Skopje and now we'll have to beat whoever comes out of the second semi. Meshkov will be dangerous in front of their fans, they have a good both team and mindset but I'd give Veszprem slight advantage in this duel. Regarding our match against Zagreb, I believe defence decided it.
Ivan Cupic, Vardar player:
We've started the match well and it was obviously too hard for Zagreb to close the gap although the match was harder than final result could suggest. We were focused well, our defence was functioning and we were simply a little more aggressive.
Slavko Goluza, coach PPD Zagreb:
We played really bad, the clear final result was our fault not because of the quality of Vardar. The start was not good, we caused a lot of technical mistakes, this is why we lost in the end. When you cause eleven technical mistakes in one half, you cannot win against a quality team like Vardar. In the second half we played better, but after the 20:25 we missed three easy shots in a row and had lost the match. We lost today, but there were some positive things today like the performances of Susnjak, Pavlovic, Mandalinic, Horvat or Valcic, they played a good game, the rest of the team needs to play much better. When I arrived in Zagreb, we had some problems and we made some mistakes again, but I saw some progress today. All the best for Vardar in the final. I was impressed by Vardar's Croatian players like Cindric, Karacic and Cupic today. This was a good thing for Croatian handball and for the EURO 2018.
Luka Sebetic, PPD Zagreb player:
Vardar played well and managed to make a big difference in the first half, we had some troubles, but now I am looking forward to the bronze final.
Domagoj Pavlovic, PPD Zagreb player:
We simply caused too many mistakes today to beat an opponent like Vardar. The start was not good to put it that way, the defence was not working on a required level for a match of such an importance. It was a clear defeat in the end, but we have to be honest and say Vardar are a better team at the moment which was today able to take advantage of every single of our mistakes.