Expert discussion in Brest: Praises for development of the SEHA – Gazprom League and different thought about new rules
06.04.2017.

•

SEHA GAZPROM LEAGUE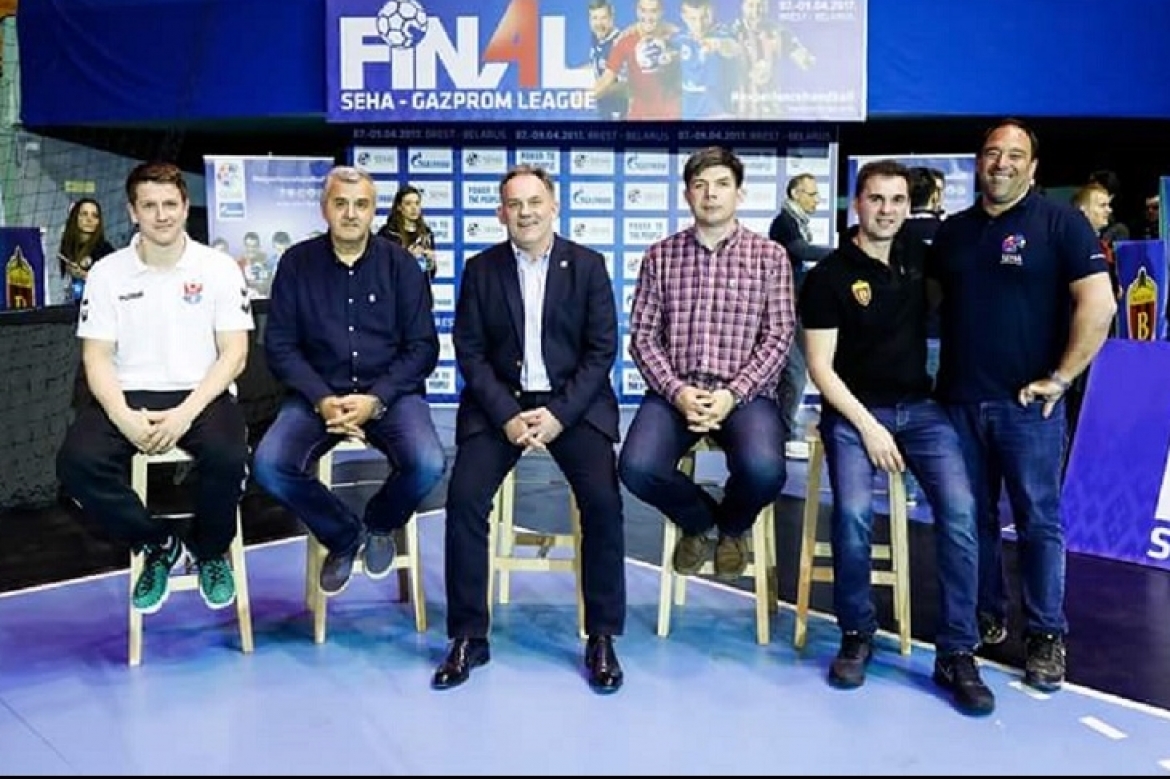 The Thursday night programme in the Viktoria sports hall in Brest (Belarus) was reserved for the first ever SEHA - Gazprom League expert handball discussion prior to Friday's semi-finals. SEHA - Gazprom League Managing Director Sinisa Ostoic, Vardar Skopje coach Raul Gonzales, Slovenian international Simon Razgor from Meshkov Brest, Bozidar Djurkovic of Serbian handball federation and Chairman of EHF Competition Commission as well as leading Macedonian handball journalist Goran Antevski took part in this premiere event.
Topics in the discussion were divided in two sections, one about F4 which surely is the top of the list here in Brest nowadays - and of course about SEHA - Gazprom League - its beginnings, its present and of course its future. It was interesting to hear people from quite different areas of interest discuss diverse topics and in such occassions conclusions are always most useful because every side gets involved.
There were things which all five participants agreed on like the fact that the four best teams of the SEHA - Gazprom League have once again managed to reach the final tournament, that we'll surely see four great matches, in which Meshkov will have slight advantage against their contenders in front of their spectators. Simon Razgor said that whole city of Brest has in the last three years become a big part of the club, that fans are getting more and more attracted to the game and the club with this final tournament coming as a icing on the cake for all the hard work that has been put in throughout the years.
SEHA - Gazprom League is known for its high standards, in which changes in participating clubs are not rare. Rising standards are helping teams like Nexe or Izvidac rise, make them see what handball on the highest level looks like and that is, as Sinisa Ostoic said, the goal of the whole idea from its very beginning - cooperation in which both sides can profit.
Slovenian teams have this season become an important part of the League and of course there are many sides eager to take part with Bozidar Djurkovic openly stating he'll do everything to bring Serbian clubs back to the competition as they have sky high respect for SEHA - Gazprom League and understand its importance for handball development in every certain aspect. Ostoic also said he can be satisfied with this season but everyone involved in the SEHA project is simply hungry for more. "This is the main reason why all together as a group work on fixing all weaker sides of the competition such as schedule arrangement in cooperation with all the sides because in the end that's what this is all about."
Another interesting segment of the discussion were rules change and whether they should be given more space in SEHA - Gazprom League. Goran Antevski stated that SEHA can now use its influence to become a global platform for introducing new rules such as that a goal scored by goalkeeper could given be two points or time-limited attacks (shot-clock). However, as both Gonzales and Razgor added, it is hard to introduce any new rules in one competition and start separating it from other competitions.
As Gonzalez said, it can be tricky because adopting several new rules might prove to be costly and cause a total contra-effect in other championships, mainly referring to EHF Champions League which still is another important priority for League's strongest participants.
Finally this discussion proved its value, showing that it is always useful, especially with all stakeholders and groups involved. Clubs, coaches and players can, as well as fans, find out, learn and think about everything which is happening off the court with the common goals to make the game better and get closer to fans all around the globe.
You can watch the full expert discussion here:
SEHA - Gazprom League expert handball discussion