Statements ahead of the semi-final Telekom Veszprem vs Meshkov
06.04.2017.

•

SEHA GAZPROM LEAGUE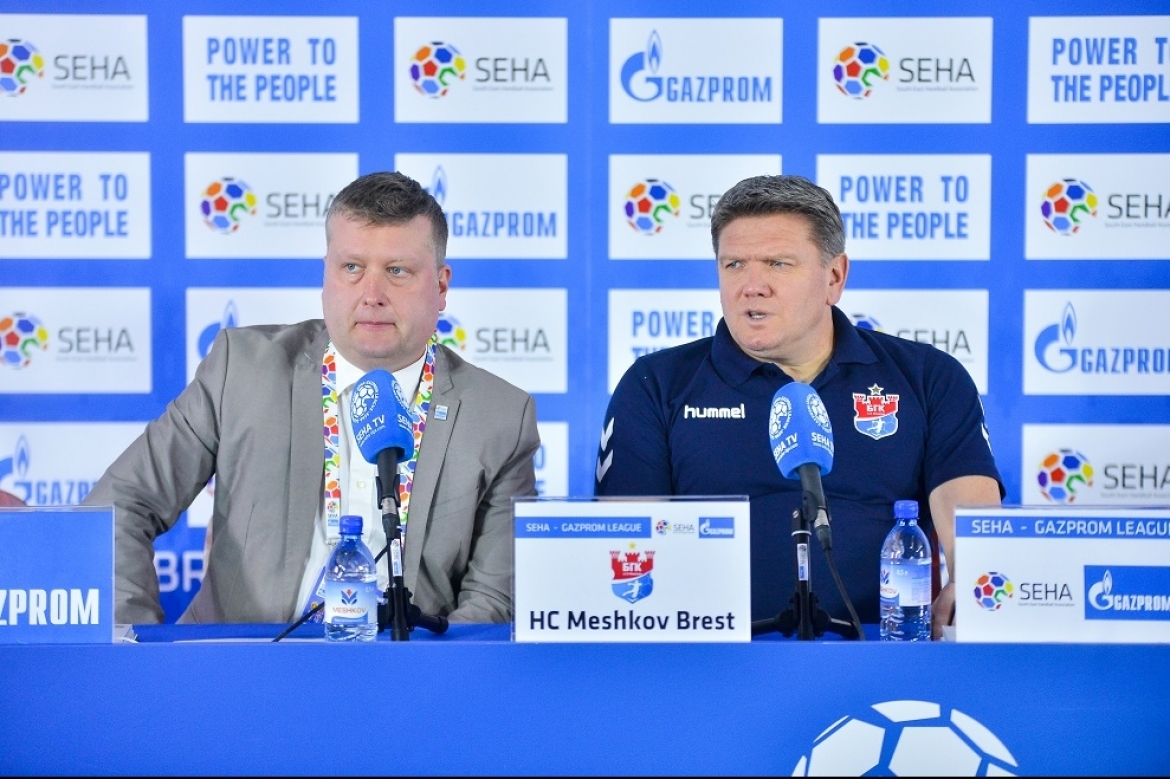 Meshkov Brest has been dreaming of the SEHA - Gazprom League trophy since five years. The ultimate goal is to win the title in front of their fans, on their court, in their house. In case they manage to get past favorized Telekom Veszprem in Friday's second semi-final, it would be their third SEHA final participation and so they hope for three as their lucy number.
But their opponents from Veszprem are well-motivated and eager to go all the way like they did in 2015 and 2106. Thus, in front of the fully packed Viktoria sports hall on Friday (21.00 local Belorussian time, 20:00 CET) a spectacle is guaranteed. This is, what coaches and players of both sides said prior to the match:
Sergey Bebeshko, Meshkov Brest coach:
The SEHA - Gazprom League this season is much stronger with eight out of ten clubs being part of the EHF Champions League's group phase. It was not easy to reach this final tournament, but now we have as many chances to go all the way as anyone else especially considering the fact we're playing at home this year and it would be an amazing thing to celebrate at an event, which is quite rare in our country. I of course expect a lot of fans, we'll play one of Europe's strongest teams, probably SEHA - Gazprom League's best squad, and it will be tough. Last year we've finished on the losing side of our semi-final clash after 7-metre shootout but we're aware this time we have to give even more than we can in order to deliver best possible performance and reach this win.
Rastko Stojkovic, Meshkov Brest player:
We're playing at home this season and, as our coach already said, our goal is to deliver the best performance we can give, hopefully reach the title and of course make whole Belarus proud of us. Considering our semi-final opponent Telekom Veszprem, they are one of Europe's strongest teams, but we can play a competitive match against them for 60 minutes and see what it brings after all. I believe, we are a quality team able to reach a victory.
Javier Sabate, Telekom Veszprem coach:
It will be an amazing Final4 with four good teams, which just had all been part of the Last 16 in the Champions League. We play our semi against the host, which is always hard. In general, the spectators will experience three great days with close and tough matches.
Laszlo Nagy, Telekom Veszprem team captain:
I expect one of the best ever Final4 tournaments of the SEHA - Gazprom League including four impressive teams with a lot of Champions League experience. Our goal is to win the competition again, but also Brest, Zagreb and Vardar have the ambition to do so. We arrive at Brest with a good feeling, as currently we almost have no injuries, this is most the important fact. Our semi-final against Brest will be hard and intense, as it is never easy to face the hosts of a tournament. But we give the best to beat them.
Mirko Alilovic, Telekom Veszprem player:
Of course, we come to Brest to defend our title, like in the last two years. We had some troubles in this season, but we overcame them and played much better in the last matches. We face host Meshkov in the semi-final in front of their fans, so this match will be as difficult as a final, if we make it there. We will give our best to defend the title, and if we play like we did in the last matches, we have the chance to win.