Borbely:''The goal is to close the regular season confidently against Tatran!''
04.03.2017.

•

SEHA GAZPROM LEAGUE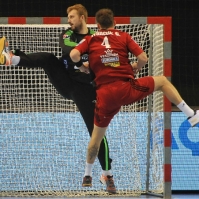 Reigning SEHA Gazprom League champions, Telekom Veszprem, will close the regular season at home playing against Slovak champions Tatran Presov. Hungarians have just arrived from Schaffhausen where they played Kadetted in CL which is another reason for coach Xavi Sabate to send rejuvenated roster to battle versus seriously weakened Tatran on Sunday (17.30 CET).

Final standings situation is also quite clear about these two teams. Telekom Veszprem will no matter the outcome on Sunday finish second and have a chance to go for 3 in-a-row on SEHA F4. Tatran will on the other side have a tough task avoiding ninth place because they will in their final regular season match, at home welcome another favorite - PPD Zagreb.
Xavi Sabate, Telekom Veszprem coach:
This will be our last regular season game in SEHA League and by that we'll play it at home. We've already secured the second position so this is a good moment to give key players some time to rest and lean on the outing of players who were not given so many chances throughout the season but are also working very well. I expect a good match and of course a win. Our minds are already pointed towards an important game which is waiting for us next week.
Adám Borbely, Telekom Veszprem goalkeeper:
Games against them are always exciting. They have several national team players and their offense is very fast so we must transition well after our attacks. I would highlight Oliver Rabek who is a big shooter and we know this well. I am sure that our defense will be the key to the victory. I see our chances in running the ball and scoring many easy goals. Confident SEHA win in our final regular season match surely is something we'd like to achieve.
Rastislav Trtik, Tatran Presov coach:
Veszprem are one of the biggest favorites to win SEHA League. We have a lot of injured back players. Our goal is to play nice handball in Veszprem and entertain fans. We have nothing to lose in this game, so we will not be under pressure.
Tomas Cip, Tatran Presov player:
We are going to play a very tough match against CL finalists. They have wide bench selection and great players. We're experiencing a lot injury problems at the moment but we have to enjoy this match as much as we possibly can and deliver best performance we can against one of the best European clubs.