Tamse:''Tatran are a much better team than League's table suggests!''
21.02.2017.

•

SEHA GAZPROM LEAGUE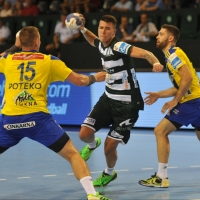 Stunning 33:32 win against reigning CL champions Kielce is now behind Celje PL and they do not have much time to celebrate with Tatran Presov coming to visit on Wednesday (18.00 CET). Match might prove to be crucial for Tamse and his boys in case they wish to catch a F4 place this season as they are only 1 points ahead of Meshkov at the moment with the match against Tatran being their regular season finale for this year. Meshkov on the other hand have two more matches to play - both on road against Gorenje and PPD Zagreb. That all means at the moment Slovenians are not really having everything under control considering F4 placements but a win against Tatran would surely give them proper chances to finish the regular part of the season among top 4.
Branko Tamse, Celje Pivovarna Lasko coach:
Win against Kielce is not something we'll be able to take much advantage of in our upcoming encounters - we're well-aware of that it doesn't mean much in case we don't back it up with more good performances! Our next opponents, Tatran Presov, are a much better team than League's table currently suggests. It was a tight match in Presov which we still remember. They are a team which plays in EHF Champions League and has quality Slovak and Czech Republic national team players as well as players from Russia, Ukraine and Balkan region. They are an interesting opponent to face but once again our priority will be our performance and approach. In case we manage to stay on our level it will not be an easy match for them and I expect the result to look in our way as well. Our main goal at the moment is to keep on rising on day-to-day basis and prove it on the court.
Gal Marguc, Celje Pivovarna Lasko player:
Victory against Kielce has given us an additional boost after two tough defeats and we see it as an extra energy boost we were all in need of. However, we have to leave that match behind us because Tatran is a very strong opponent so we have to remain focused. We have to prepare in the best possible way as we know they are also a CL-level team. They are good at punishing your mistakes so we have to work for the positive result from the very first minute.
Rastislav Trtik, Tatran Presov coach:
A really tough game is ahead of us with Celje flying on wings of an impressive win over Kielce. This will be their final regular-season clash and they will look to beat us in order to keep their F4 chances alive. They have multiple good players like Mackovsek, Zarabec, Janc or Zvizej who are all difference-makers. We do not have anything to lose in this one - we have to play perfect in defense and be efficient in attack if we want to take points from this one.
Dominik Krok, Tatran Presov player:
We've lost to Celje at home after delivering a very good performance. They have an outstanding team and are proving that in Champions League. It will be a very tough match for us but we'll surely do our best to reach the best possible result.
Big interview with #Skok, #Cingesar & #Miklavčič coming up in our next #SEHATVMagazine. Don't miss it! #SEHALeague #Gazprom pic.twitter.com/DU9SAbFRwu
— SEHA-GAZPROM LEAGUE (@SEHALeague)
February 26, 2017