WCh France 2017, Day 6; Slovenia and Croatia celebrate in SEHA derbies, Hungary grab premier win
16.01.2017.

•

SEHA GAZPROM LEAGUE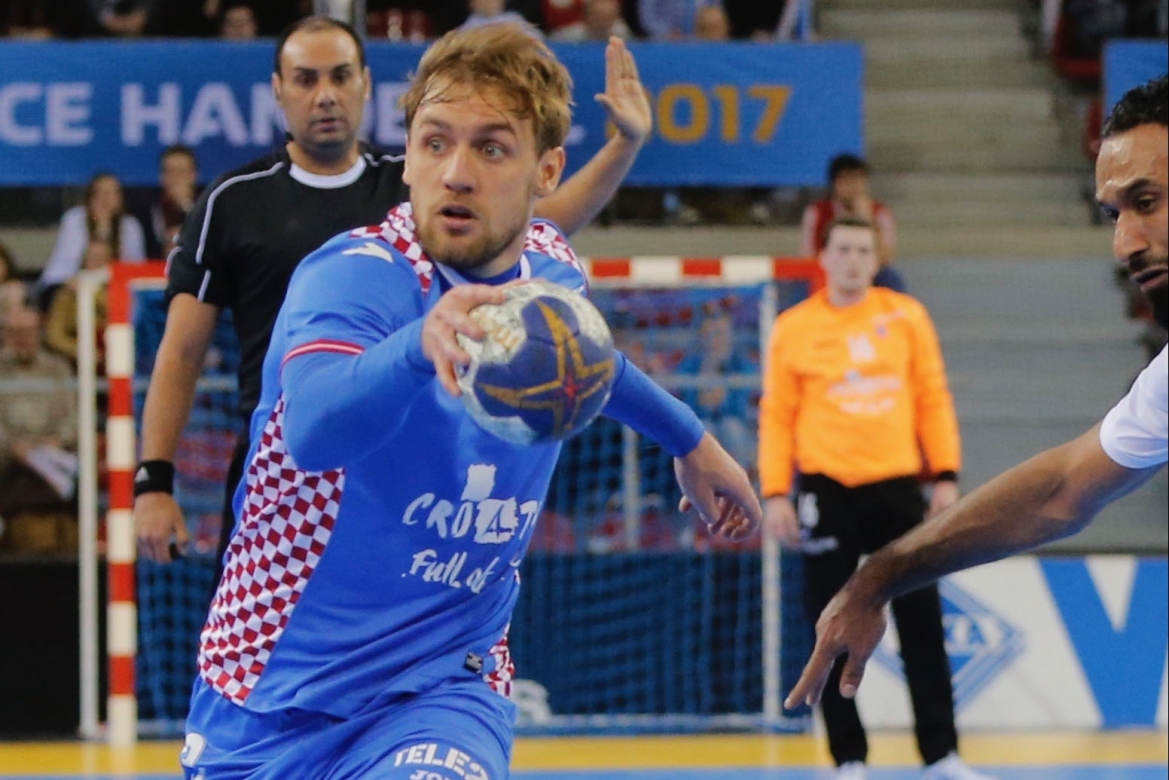 SEHA derby Slovenia versus Macedonia has opened the WCh matchday 6. Vujovic and his boys have managed to decide everything in the first half already enlarging the gap to 6 and in the end easily sealing the deal at 29:22. Slovenian biggest strength in this one was actually the whole team as it was a great all-around performance with all goalies, offence and defence working on the highest possible level. They were today simply too fast for Macedonians once again confirming the 'dark horse' role in the competition having 6 points after 3 matches in France. PPD Zagreb' Matevz Skok had 14 saves and 1 goal. Blagotinsek was 3/3, Marguc 4/4, Janc added 3 as well as both Mackovsek and Zarabec. Kodrin and Cingesar scored 1 each. Unstoppable Kiro Lazarov was on the other side once again leading Macedonia with 9 goals but with quite poor 50% efficiency in this one. Stoilov scored 3, Drogriski 2, Taleski 1 as well as Popovski and Neloski. Slovenia will tomorrow in round 4 play Tunisia and Macedonia will day later face Spain.

First points for Hungary in the competition as they have in a tough match managed to edge Chile 34:29. It was not easy especially with coach Sabate being forced to make a replacement for Laszlo Nagy whose injury appears to be too hard for him to continue with the championship. Another Telekom Veszprem' player Peter Gulyas came in playing a solid match scoring 2 from as much attempts. Iman Jamali was however leading Hungary in scoring in this one with 7. Lekai added 5, Ancsin 3, Ligetvari 1. Mikler had 5 saves sharing time with Fazekas who had 8. Hungarians were 3 goals up after first 30 and were able to keep Chile as far as -2 throughout the whole second half. Xavi Sabate and his players will surely look to profit from this victory as much as possible, build up positive atmosphere in the squad a catch a new win in two days against Saudi Arabia.
Croatia are slowly rising in form. After a 31:25 win they are 3/3 and despite of the fact that they are going to play Chile on Wednesday their minds are already looking towards a duel against Germany scheduled for Friday which will most likely determine who will take the top spot in group C. It was not easy today. Belarus have managed to deliver a decent performance with Croats finally enlarging the gap in final 10 minutes. Luka Cindric delivered an amazing performance scoring 8 from as much attempts in only first half and adding 5 assists, 8 in total. Young line player Karalek was leading Belarus in this one hurting Croatia from inside with 7 goals. He is surely one of Europe's rising stars and players to look at as he is currently second in top scorer list in France with 23 goals. PPD Zagreb captain Horvat was also an important link today for Croatia scoring 5. Mandalinic added 3, Kontrec 1 as well as Bozic-Pavletic. Stevanovic finished the match with 8 saves and 44% saving ratio in only the second half. In Belarus roster Meshkov Brest' players Shylovich and Rutenka were shining scoring 5 each. Yurynok added 4. Iuri Chevtsov and his boys will also have their next appearance on WCh on Wednesday when they will play German 'Bad boys'.
Egypt are now 2/2 against Asians in group D as they have, after a stunning opening win against favored Qatar, also managed to beat reigning Asian Championship silver medallist Bahrein 31:29. In a tough, narrow match Elderaa was once again leading their offence with 6/6.
Russian players have also managed to reach their second win on the tournament beating Poland 24:20 in a European derby in France. SEHA trio in Russian roster was once again shining, especially Atman who was with 5 goals one of their offensive keys in this one. Shishkarev and Dibirov netted 2 each with another winger Kovalev leading them in an exceptional match in which he was 7/7. Malcher had 12 saves for Poland.
Another blowout win on WCh with Spain demolishing Angola in group B. In the end it was +20 (42:22) with Angel Fernandez leading Hispanos with 9. Alex Dujshebaev added 4, Canellas 1. Lopes scored 6 for Angola. Spain has now taken over the leading spot in group B due to a better goal difference than Slovenia. Two teams will obviously in the final round of the group stage decide who will go through to knockout phase from the pole position.
Denmark and Sweden have on the court proved why their encounter was given 'match of the day' title with an incredible match from both sides and a 27:25 win for Denmark. Niklas Landin exploded for unreal 23 saves and Mikkel Hansen was on the other side leading their offence with 8 goals. Swedes were on the other side once again flying on wings of their wingers with Ekberg leading them in the derby with 7. Appelgren had 14 saves.
Matchday 6 (16.1.2017)
Group A: Poland - Russia 20:24 (9:13) (Gebala 4/Kovalev 7)
Group B: Slovenia - Macedonia 29:22 (16:10) (Marguc, Bezjak 4/K.Lazarov 9), Spain - Angola 42:22 (21:10) (Fernandez 9/Lopes 6)
Group C: Hungary - Chile 34:29 (17:14) (Jamali 7/Er. Feuchtmann 9), Croatia - Belarus 31:25 (18:15) (Cindric 8/Karalek 7)
Group D: Egypt - Bahrain 31:29 (17:15) (Elderaa 6/Abdulla Saad 6), Denmark - Sweden 27:25 (14:10) (Hansen 8/Ekberg 7)
Slovenia will be the only SEHA Gazprom national team to step on the court on Tuesday when they will open the matchday in group B playing against Tunisia. SEHA League will, by that match, have its representatives in Nantes as well with Russian trio Dibirov, Shishkarev, Atman looking to stun hosts in group A.
Tomorrow on World Championship in France:
Group A: Norway - Brazil (14.00 CET), Poland - Japan (17.45 CET), Russia - France (20.45 CET)
Group B: Slovenia - Tunisia (17.45 CET), Angola - Iceland (20.45 CET)
Group C: Germany - Saudi Arabia (17.45 CET)
Group D: Qatar - Argentina (17.45 CET)
FULL WCH FRANCE 2017 OVERVIEW
Results Group A
Round 1; France - Brazil 31:16 (17:7) (Porte 6/Toledo 5), Russia - Japan 39:29 (18:15) (Atman, Dibirov, Shishkarev 6/Shida 7), Poland - Norway 20:22 (10:12) (Daszek 7/Hansen 6)
Round 2; Japan - France 19:31 (9:17) (Uegaki 5/Fabregas 7), Brazil - Poland 28:24 (16:11) (Toledo 8/Paczkowski 6), Norway - Russia 28:24 (15:11) (Bjornsen 7/Soroka 8)
Round 3; France - Norway 31:28 (16:12) (N. Karabatic 5/ Sagosen 8), Brazil - Japan 27:24 (14:12) (Langaro 8/Tokuda 7), Poland - Russia 20:24 (9:13) (Gebala 4/Kovalev 7)
STANDINGS GROUP A; France 6 (+30), Russia 4 (+10), Norway 4 (+3), Brazil 4 (-8), Poland 0 (-10), Japan 0 (-25),
Results Group B
Round 1; Slovenia - Angola 42:25 (22:13) (Marguc, Mackovsek 9/Lopes 7), Macedonia - Tunisia 34:30 (13:14) (Lazarov 12/Boughanmi 9), Spain - Iceland 27:21 (10:12) (Canellas 4/Sigurdsson 5)
Round 2; Iceland - Slovenia 25:26 (8:11) (Elisson 7/Bezjak 6), Tunisia - Spain 21:26 (10:12) (Toumi 5/Tomas, Balaguer 5), Angola - Macedonia 22:31 (9:14) (Lopes 5/K.Lazarov 10)
Round 3; Iceland - Tunisia 22:22 (11:13) (Sigurdsson 5/Bannour 12), Slovenia - Macedonia 29:22 (16:10) (Marguc, Bezjak 4/K.Lazarov 9), Spain - Angola 42:22 (21:10) (Fernandez 9/Lopes 6)
STANDINGS GROUP B; Spain 6 (+31), Slovenia 6 (+25), Macedonia 4 (+6), Iceland 1 (-7), Tunisia 1 (-9), Angola 0 (-46)
Results Group C
Round 1; Belarus - Chile 28:32 (14:14) (Karalek 10/R. Salinas 8), Germany - Hungary 27:23 (16:11) (Gensheimer 13/Jamali, Lekai 3), Croatia - Saudi Arabia 28:23 (12:11) (Cindric 6/Alsalem 5)
Round 2; Hungary - Croatia 28:31 (11:11) (Balogh, Harsanyi 6/Duvnjak 5), Chile - Germany 14:35 (6:17) (Feuchtmann 2/Kohlbacher 8), Saudi Arabia - Belarus 26:29 (13:14) (Alsalem 7/Pukhouski 9)
Round 3; Hungary - Chile 34:29 (17:14) (Jamali 7/Er. Feuchtmann 9), Croatia - Belarus 31:25 (18:15) (Cindric 8/Karalek 7)
STANDINGS GROUP C; Croatia 6 (+14), Germany 4 (+25), Hungary 2 (-2), Belarus 2 (-7), Chile 2 (-22), Saudi Arabia 0 (-8)
Results Group D
Round 1; Qatar - Egypt 20:22 (8:11) (Capote 5/El-Ahmar 8), Sweden - Bahrain 33:16 (17:5) (Tollbring 10/Habib Hasan 4), Denmark - Argentina 33:22 (17:11) (Hansen 6/F. Fernandez 6)
Round 2; Egypt - Denmark 28:35 (15:21) (Elderaa 6/Svan 6), Argentina - Sweden 17:35 (11:16) (S. Simonet 5/Zachrisson 8), Bahrain - Qatar 22:32 (9:19) (Abdulqader Ali 5/Madadi 8)
Round 3; Egypt - Bahrain 31:29 (17:15) (Elderaa 6/Abdulla Saad 6), Denmark - Sweden 27:25 (14:10) (Hansen 8/Ekberg 7)
STANDINGS GROUP D; Denmark 6 (+20), Sweden 4 (+33), Egypt 4 (-3), Qatar 2 (+8), Bahrain 0 (-29), Argentina 0 (-29)