WCh France 2017, Day 4: 3/3 for SEHA representatives as Slovenia and Macedonia top group B
14.01.2017.

•

SEHA GAZPROM LEAGUE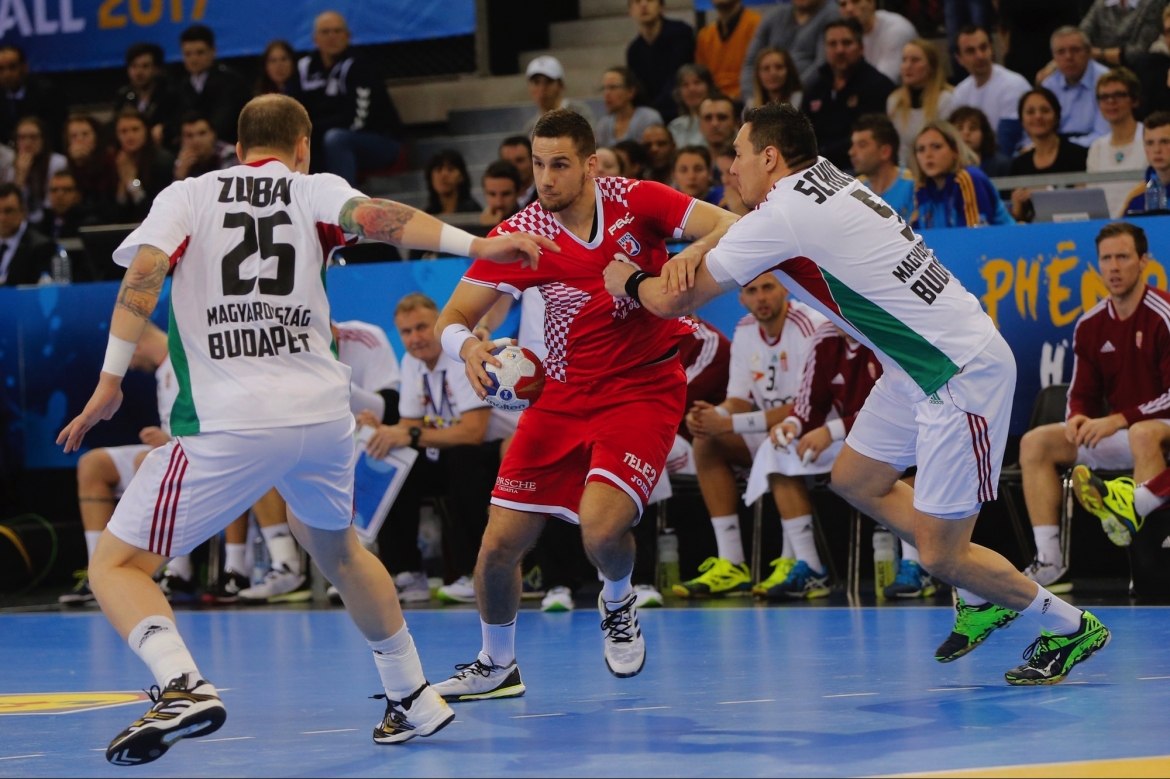 In the opening match of the day in group B, SEHA Gazprom representatives Slovenia have managed to grab second win with a narrow triumph over Iceland 26:25. It was a tough match with Slovenian 11:8 lead after first 30 minutes being the only time for a team to have +3 which says quite much of how close the encounter was. Slovenian roster was reinforced for the match with Celje PL's Miha Zarabec recovering from a minor injury and scoring 4 in his premier appearance in France. Icelandic players have managed to stop Slovenian intentions of running a lot and scoring many easy transition goals. The best proof for that is that their wingers were far from leading their attack today unlike against Angola in the first round. Naturally, in such occasion, bigger load was on back players and their shooting. Luckily for both Veselin Vujovic and their fans they have responded well with Bezjak leading the score-list with 6, Kavticnik adding 4, Mackovsek 3. Matevz Skok was also on a required level with 8 saves helping his team make impact in key moments of the second half widening the gap and sailing towards an important win. Next time they step on the court in Metz, on Monday, they will face-off against Macedonia.
Croats have, once again harder than expected, managed to reach second win in France defeating Hungary 31:28 after a really tough, physical match in Rouen. In the first half it was 11:11 with Croatia reducing the gap in final 5 minutes with a 4:0 series. In the second half it was however visible that Croatia has wider bench and more quality players with bench players Sebetic and Mamic running the offence in the end combining for 8 goals. Xavi Sabate had a clear problem with Laszlo Nagy being forced to sit out the entire encounter with a foot injury as he is one of their key players in both attack and defense. In his absence Balogh and Harsanyi were leading the score-list with 6 both. Lekai scored 4, Jamali 2, Ligetvari 1. Mikler had 9 saves. Strlek was leading Croatia scoring 6 goals and making up for the poor performance in the first round against Saudi Arabia. Cindric scored 4 as well as Sebetic. Mandalinic and Kontrec added 2 each. Both teams will step on the court again on Monday with Croatia facing Belarus in a SEHA derby and Hungary playing Chile.
Macedonians have managed to reach second triumph in France as well clearly defeating Angola with 31:22. Everything was functioning well for Lino Cervar and his players as they were already 5 goals up after first 30. Kiro Lazarov was once again leading his team in attack with 10 goals. Stoilov added 2, Taleski and Popovski 1 each. Their defense was functioning well today and interesting is that goalkeeper Blagojce Trajkovski had 2 goals combined with 2 saves. Lopes was on the other side leading Angola but it was from the first minute obvious that Macedonians were ready to adopt the favorite role and take full control of the match. In the next round Macedonia will on Monday play Slovenia in second SEHA WCh duel of the day.
Despite of the fact that Poland are seriously weakened in France with multiple injury problems on their back it was hard to expect for them to fall short against Brazil especially with their opening performance against France in mind. However it did happen. In the end quite an easy 28:24 win after being 5 goals up with 30 minutes left to play. Toledo was leading Brazil with 8.
Norway have after an opening win against Poland managed to secure two new points in a European clash against Russia. Norwegians have managed to enlarge the gap before the break keeping it open all the way until the end and final 28:24. In Russian roster Atman netted 3, Shishkarev 2. Soroka was leading them with 8 and on the other side Bjornsen scored 7. Bergerud had 14 saves.
Spaniards are 2/2. In a clash against Tunisia they have, a bit harder than expected, managed to reach points and keep the positive streak alive. It was only +2 after first 30 but Tomas & Co have in the second half enlarged the gap sealing the deal at 26:21. Canellas and Alex Dujshebaev netted 1 each for Spain.
Another win for Denmark as well, this time against Egypt which has already proved to be a tough matchup for anyone defeating Qatar in the first round. However, reigning Olympic Champions did not experience much problems against African champions reaching a clear 35:28 win on Lasse Svan' 6 goals. SEHA Gazprom League's representatives in this match were Slovenian referees Lah and Sok.
Matchday 4 (14.1.2017)
Group A: Brazil - Poland 28:24 (16:11) (Toledo 8/Paczkowski 6), Norway - Russia 28:24 (15:11) (Bjornsen 7/Soroka 8)
Group B: Iceland - Slovenia 25:26 (8:11) (Elisson 7/Bezjak 6), Tunisia - Spain 21:26 (10:12) (Toumi 5/Tomas, Balaguer 5), Angola - Macedonia 22:31 (9:14) (Lopes 5/K.Lazarov 10)
Group C: Hungary - Croatia 28:31 (11:11) (Balogh, Harsanyi 6/Duvnjak 5)
Group D: Egypt - Denmark 28:35 (15:21) (Elderaa 6/Svan 6)
Belarus will be the only SEHA Gazprom WCh participating national team to step on the court on Sunday playing against Saudi Arabia in a match in which they will certainly give their best to get back to their fans after a surprising opening loss against Chile. By that, 6 other matches will be played on fifth day of the World Championship with the spotlight shining upon European derby between Norway and France. Anyhow, another great day in France is ahead of us so stay tuned!
Tomorrow on World Championship in France:
Group A: France - Norway (17.45 CET), Brazil - Japan (20.45 CET)
Group B: Iceland - Tunisia (14.45 CET)
Group C: Chile - Germany (14.45 CET), Saudi Arabia - Belarus (20.45 CET)
Group D: Argentina - Sweden (14.45 CET), Bahrain - Qatar (17.45 CET)
FULL WCH FRANCE 2017 OVERVIEW
Results Group A
Round 1; France - Brazil 31:16 (17:7) (Porte 6/Toledo 5), Russia - Japan 39:29 (18:15) (Atman, Dibirov, Shishkarev 6/Shida 7), Poland - Norway 20:22 (10:12) (Daszek 7/Hansen 6)
Round 2; Japan - France 19:31 (9:17) (Uegaki 5/Fabregas 7), Brazil - Poland 28:24 (16:11) (Toledo 8/Paczkowski 6), Norway - Russia 28:24 (15:11) (Bjornsen 7/Soroka 8)
STANDINGS GROUP A; France 4 (+27), Norway 4 (+6), Russia 2 (+6), Brazil 2 (-11), Poland 0 (-6), Japan 0 (-22),
Results Group B
Round 1; Slovenia - Angola 42:25 (22:13) (Marguc, Mackovsek 9/Lopes 7), Macedonia - Tunisia 34:30 (13:14) (Lazarov 12/Boughanmi 9), Spain - Iceland 27:21 (10:12) (Canellas 4/Sigurdsson 5)
Round 2; Iceland - Slovenia 25:26 (8:11) (Elisson 7/Bezjak 6), Tunisia - Spain 21:26 (10:12) (Toumi 5/Tomas, Balaguer 5), Angola - Macedonia 22:31 (9:14) (Lopes 5/K.Lazarov 10)
STANDINGS GROUP B; Slovenia 4 (+18), Macedonia 4 (+13), Spain 4 (+11), Iceland 0 (-7), Tunisia 0 (-9), Angola 0 (-26)
Results Group C
Round 1; Belarus - Chile 28:32 (14:14) (Karalek 10/R. Salinas 8), Germany - Hungary 27:23 (16:11) (Gensheimer 13/Jamali, Lekai 3), Croatia - Saudi Arabia 28:23 (12:11) (Cindric 6/Alsalem 5)
Round 2; Hungary - Croatia 28:31 (11:11) (Balogh, Harsanyi 6/Duvnjak 5)
STANDINGS GROUP C; Croatia 4 (+8), Chile 2 (+4), Germany 2 (+4), Belarus 0 (-4), Saudi Arabia 0 (-5), Hungary 0 (-7)
Results Group D
Round 1; Qatar - Egypt 20:22 (8:11) (Capote 5/El-Ahmar 8), Sweden - Bahrain 33:16 (17:5) (Tollbring 10/Habib Hasan 4), Denmark - Argentina 33:22 (17:11) (Hansen 6/F. Fernandez 6)
Round 2; Egypt - Denmark 28:35 (15:21) (Elderaa 6/Svan 6)
STANDINGS GROUP D; Denmark 4 (+18), Sweden 2 (+17), Egypt 2 (-5), Qatar 0 (-2), Argentina 0 (-11), Bahrain 0 (-17)