WCh France 2017, Day 3: Cindric scores 6 as Croatia saves the day after losses for Belarus and Hungary
13.01.2017.

•

SEHA GAZPROM LEAGUE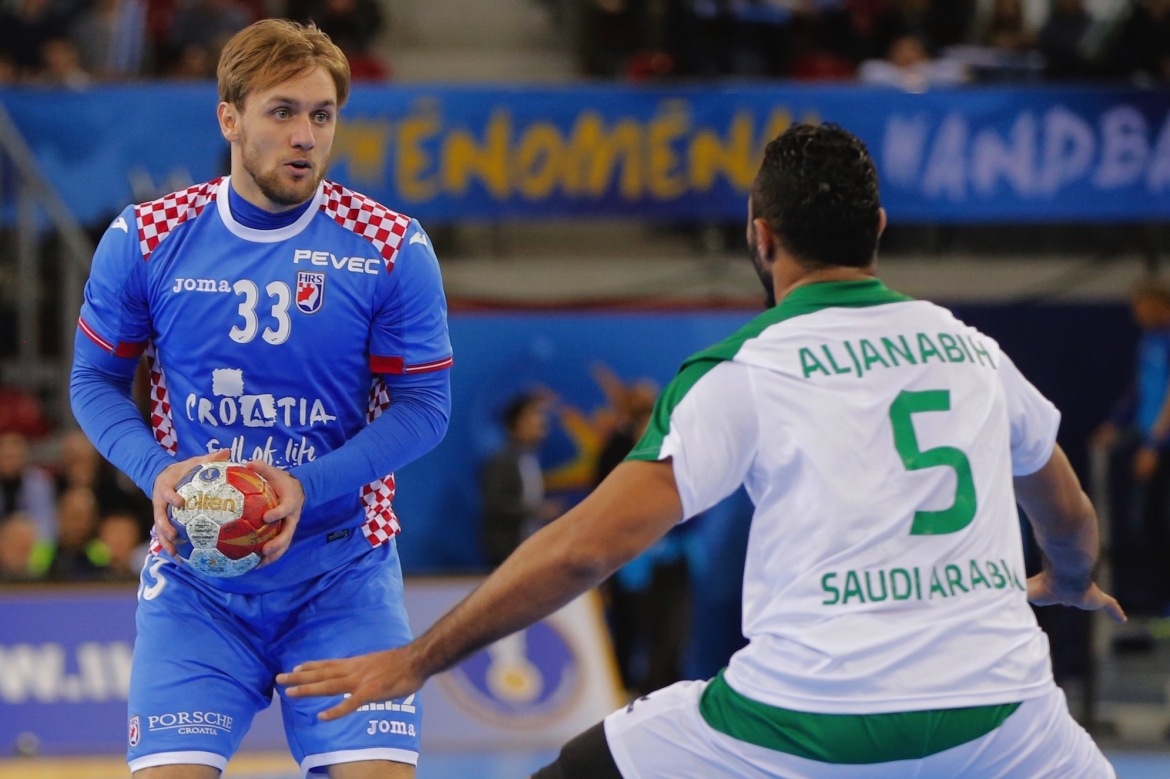 Belarus did not manage to verify the favorite role against Chile in their premier WCh appearance falling 32:28 short against a team led by famous former Barcelona's player Mateo Garralda. Match was tied at 14 after first 30 minutes but in the second half, when Belarusians were expected to make a bigger impact and decide the encounter, Chile were there to take control of the match, make a 3:0 series to bring them up by one after which they did not let the lead slip through their hands. Karalek was leading Belarus scoring 10, Shylovich added 3 and Dzianis Rutenka 2. In the next round against Saudi Arabia on Sunday Iuri Chevtsov and his players will look to make up for the surprising opening loss.
Hungary were not far from surprising favored Germany despite of the fact it did not look like that in first 30 minutes. In the first half German defense seemed to be way too tough and transition way too fast for Hungarians who have in the end managed to reduce the gap to only -5 after even being 7 goals behind. However, second half - completely different story. Hungarians have managed to open it with 4:0 series reducing the gap to only -1 and keeping close all the way until final 5 minutes. There was however not enough strength left for a strong and dominant finish with Uwe Gensheimer, who was absolutely unstoppable scoring 13 today, deciding everything and securing first points for Germany with 27:23 in the end. Additional bad thing for Xavi Sabate's team is captain Laszlo Nagy' injury as he remains questionable for tomorrow and SEHA face-off on WCh in France against Croatia. By multiple Hungarian players SEHA Gazprom League had more of its representatives on this match with Macedonian referees Nacevski and Nikolov being assigned for the duel.
Third luck rule was active for SEHA Gazprom League's representative countries today with Croatia grabbing a win over Saudi Arabia after two losses today for both Belarus and Hungary. It was however way harder than expected. The fact that it was only 12:11 after first 30 says quite enough of how hard this opener actually was for Croatia. They were simply not able to connect a few good both defensive and attacking actions to widen the gap and sail towards an easy win. Saudi Arabians were on the other side in a good mood, relaxed and aware of an underdog role in this one but also well prepared to punish all Croatian mistakes. Vardar's Luka Cindric was leading Croatia with 6 goals, Duvnjak added 5. In the end +5 (28:23) to put them on top of group C after first round ahead of what might prove to be one of group's key encounters tomorrow against Hungary.
In the opening match of the day in group D Egypt have managed to reach first two points, despite of having an underdog role before the match, against reigning WCh silver medallists Qatar. Former Flensburg player Ahmed El-Ahmar was leading their offence scoring 8 while their goalkeepers combined for 17 saves.
France have managed to become the first team to reach two victories easily defeating Japan 31:19. Ludovic Fabregas was leading their offence scoring 7 from as much attempts.
Sweden did not experience many problems in their opening encounter here in France either. They were with 33:16 (17:5 after first 30) better than Bahrein with Veszprem's Andreas Nilsson scoring 4 in only 14 minutes and their goalies combining for amazing 20 saves making it almost impossible for Bahrein to come any closer.
Denmark closed the day in group D with a confident triumph over Argentina. One of the best players in the world Mikkel Hansen was on the required level scoring 6 and once again leading Denmark towards a new win. Niklas Landin had 15 saves. SEHA Gazprom League had representatives in this one as well with Montenegrin referees Pavicevic and Raznatovic being in charge of the duel.
Matchday 3 (13.1.2017)
Group A: Japan - France 19:31 (9:17) (Uegaki 5/Fabregas 7)
Group C: Belarus - Chile 28:32 (14:14) (Karalek 10/R. Salinas 8), Germany - Hungary 27:23 (16:11) (Gensheimer 13/Jamali, Lekai 3), Croatia - Saudi Arabia 28:23 (12:11) (Cindric 6/Alsalem 5)
Group D: Qatar - Egypt 20:22 (8:11) (Capote 5/El-Ahmar 8), Sweden - Bahrain 33:16 (17:5) (Tollbring 10/Habib Hasan 4), Denmark - Argentina 33:22 (17:11) (Hansen 6/F. Fernandez 6)
Four SEHA national teams will be active on Saturday and we will even have our first SEHA derby in France with Hungary playing Croatia in Rouen. By that, Slovenia will in Metz after a perfect start meet Iceland and Macedonia will later play Angola.
Tomorrow on World Championship in France:
Group A: Brazil - Poland (14.45 CET), Norway - Russia (17.45 CET)
Group B: Iceland - Slovenia (14.45 CET), Tunisia - Spain (17.45 CET), Angola - Macedonia (20.45 CET)
Group C: Hungary - Croatia (20.45 CET)
Group D: Egypt - Denmark (20.45 CET)
FULL WCH FRANCE 2017 OVERVIEW
Results Group A
Round 1; France - Brazil 31:16 (17:7) (Porte 6/Toledo 5), Russia - Japan 39:29 (18:15) (Atman, Dibirov, Shishkarev 6/Shida 7), Poland - Norway 20:22 (10:12) (Daszek 7/Hansen 6)
Round 2; Japan - France 19:31 (9:17) (Uegaki 5/Fabregas 7)
STANDINGS GROUP A; France 4 (+27), Russia 2 (+10), Norway 2 (+2), Poland 0 (-2), Japan 0 (-22), Brazil 0 (-15)
Results Group B
Round 1; Slovenia - Angola 42:25 (22:13) (Marguc, Mackovsek 9/Lopes 7), Macedonia - Tunisia 34:30 (13:14) (Lazarov 12/Boughanmi 9), Spain - Iceland 27:21 (10:12) (Canellas, Balaguer 4/Sigurdsson 5)
STANDINGS GROUP B; Slovenia 2 (+17), Spain 2 (+6), Macedonia 2 (+4), Tunisia 0 (-4), Iceland 0 (-6), Angola 0 (-17)
Results Group C
Round 1; Belarus - Chile 28:32 (14:14) (Karalek 10/R. Salinas 8), Germany - Hungary 27:23 (16:11) (Gensheimer 13/Jamali, Lekai 3), Croatia - Saudi Arabia 28:23 (12:11) (Cindric 6/Alsalem 5)
STANDINGS GROUP C; Croatia 2 (+5), Chile 2 (+4), Germany 2 (+4), Belarus 0 (-4), Hungary 0 (-4), Saudi Arabia 0 (-5).
Results Group D
Round 1; Qatar - Egypt 20:22 (8:11) (Capote 5/El-Ahmar 8), Sweden - Bahrain 33:16 (17:5) (Tollbring 10/Habib Hasan 4), Denmark - Argentina 33:22 (17:11) (Hansen 6/F. Fernandez 6)
STANDINGS GROUP D; Sweden 2 (+17), Denmark 2 (+11), Egypt 2 (+2), Qatar 0 (-2), Argentina 0 (-11), Bahrain 0 (-17)