PPD Zagreb beat Izvidjac 34:29 – 15 saves for Stevanovic, Vujic shines with 7/5
29.10.2016.

•

SEHA GAZPROM LEAGUE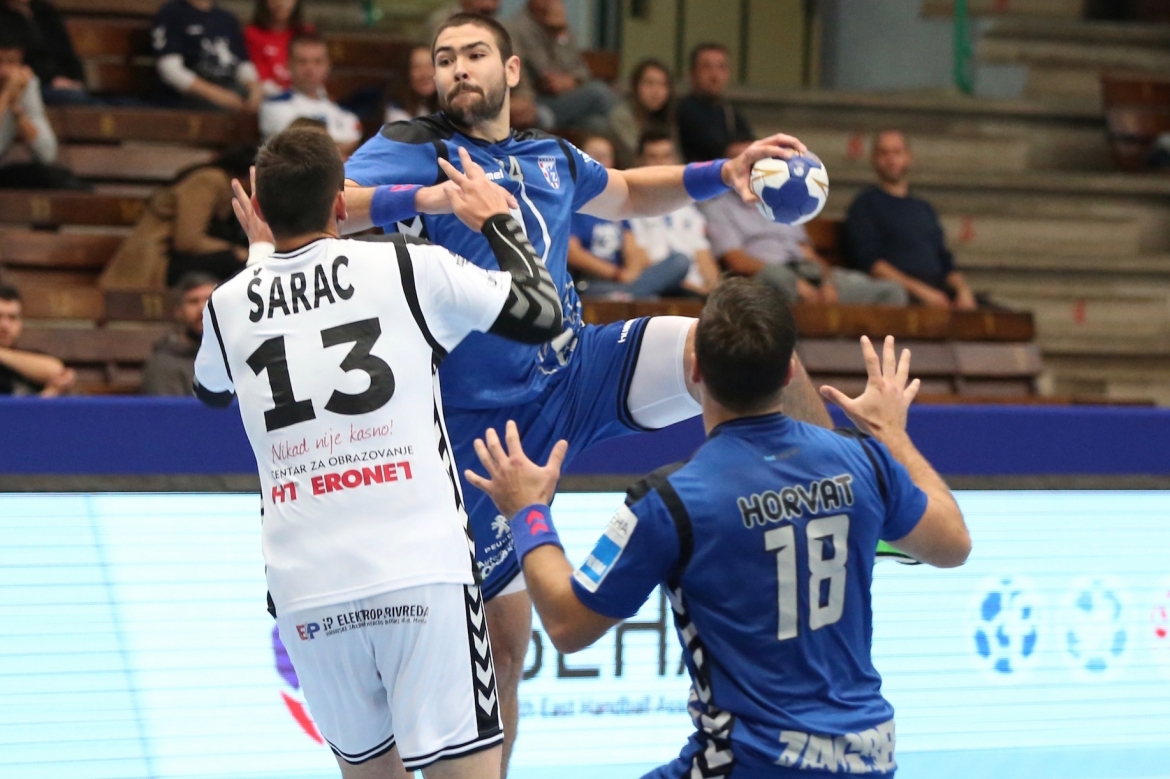 In the match of SEHA Gazprom League's 13th round PPD Zagreb have managed to beat Izvidjac CO from Ljubuski confidently with 34:29.
Guests were from the beginning playing on a high level, solid in defense despite of the fact that Lions were able to open the match with 4:1 series and it was clear that they will not have an easy job breaking Izvidjac's resistance. Ivan Stevanovic was unbelievable in the first half for Zagreb with 11 saves from which there were also 2 7-meter shots and a few counter-attacks. Sebetic was on the matching level in the first with 5 goals. Considering the team of Ljubuski, Josip Sarac was leading them in both attack with 5 goals and defense which was the main reason that goal gap was only 2 goals wide after first 30.
Guests from Ljubuski have managed to open the second half in a good way, fast in 5-1 defense led by Ivan Miličević. However, Zagreb's long bench and remarkable role by Igor Vujic who has finished the match with 7 goals and 5 assists were simply to much for Izvidac to cope with. Josip Sarac was once again leading them, especially with Matej Hrstic being sidelined due to injury, with 7 goals and Kristijan Jarak added 5. Speaking of Zagreb, by Vujic, Sebetic was on a required level offensively with 7 goals and Ivan Stevanovic finished the match with 15 saves.
Silvio Ivandija, PPD Zagreb coach:
Izvidjac are a young team, quite perspective. Speaking of us, we were not focused enough to enlarge the gap and decide winner in first 30 and that's surely something we still have to work on ahead of clashes against stronger opponents in Champions League.
Zdenko Grbavac, Izvidjac CO coach:
I believe we're playing well but we're in a league of higher dimensions which is tough. We are not a big team and we're trying hard but it is not easy to face really strong opponents like we do in this league.
Josip Eres, PPD Zagreb player:
We were expecting a tough match. Coach set us some goals he was expecting us to meet in this match and we did it, more or less successfully. Now we'll have international break and a chance to prepare, rise in form and get ready for the next part of the season.
Mario Pavlak, Izvidjac CO player:
We did not enter the match quite well but managed to stay close all the way until half-time. In the second half we were good in the beginning but after that we were simply not able to stop Zagreb from enlarging the gap and deciding the match which surely is a thing we still have to work on.