EHF CL Round 2: Vardar wins SEHA derby, Veszprem beats Schaffhausen
03.10.2016.

•

SEHA GAZPROM LEAGUE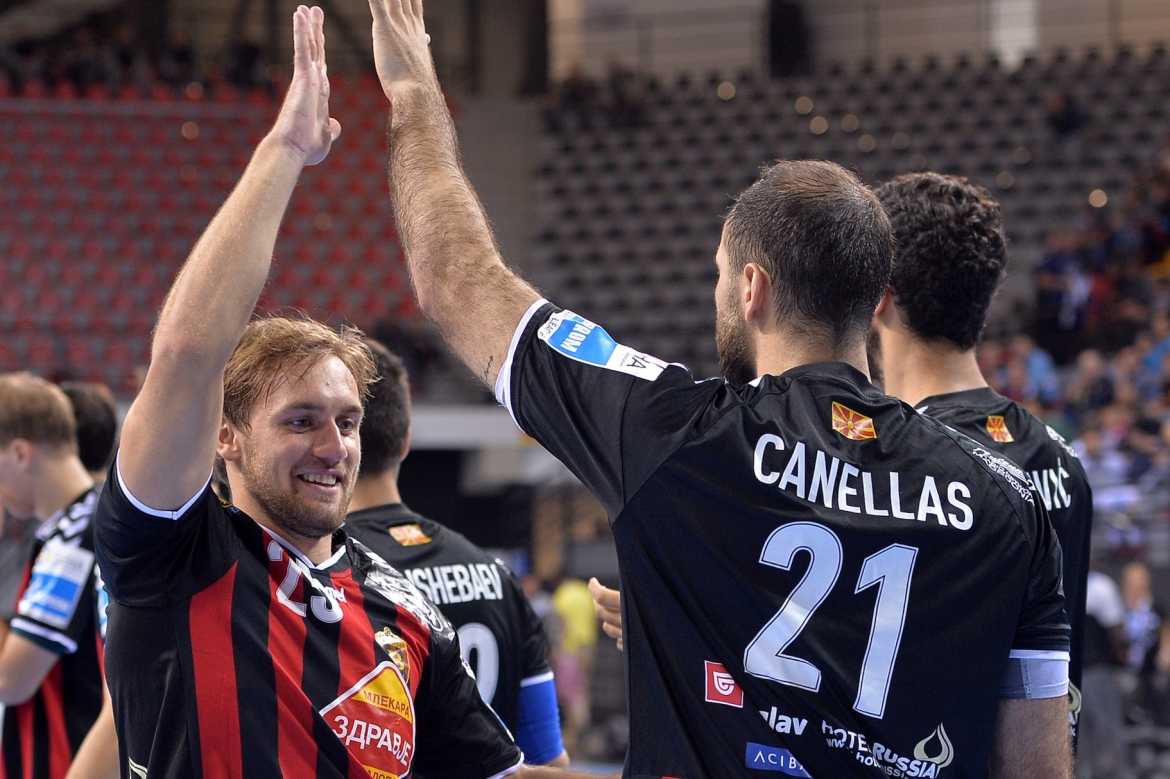 Weekend behind us was reserved for the second round of EHF Champions League and EHF Cup. SEHA participants have, speaking of Champions League's strongest groups, once again managed to secure two victories with Vardar and Veszprem celebrating in duels against Meshkov Brest and Kadetten Schaffhausen. But let's go step by step.
Telekom Veszprem was after a draw in the first round in Germany against Flensburg forced to secure a victory at home against Kadetten Schaffhausen in order to stay in race for top spots. Fortunately for their amazing fans they have managed to beat Swiss champions with 32:28. Ilic was once again leading his team with 7 goals, Gajic added 6 and Sulic 4.
Group A standings after first two rounds:
Barcelona 4, Flensburg 3, Veszprem 3, PSG 2, Kiel 2, Silkeborg 2, Schaffhausen 2, Wisla 0
Vardar is on the other side proving to be in a great form at the beginning of the season with another Champions League victory. This time they were better than Meshkov with 31:27 in one of SEHA derbies of Champions League with Dujshebaev once again dominating the match scoring 9 goals. Borozan scored 7, Cindric and Dibirov 4 each which makes them the only SEHA team to open CL season with two wins. Stojkovic scored 8, Jamali 5, Kristopans 3 for Belarusian side but that was simply not enough to stop Raul Gonzales' army on their way to another triumph.
PPD Zagreb did not manage to catch points in their second encounter of the season with Hungarian PICK Szeged outplaying them with 24:26 despite of Horvat's 6 goals. Mandalinic and Markovic have added 5 each but that was not enough leaving Zagreb in a tough situation without points after two rounds.
After opening win against PPD Zagreb at home Celje PL was close to spicing things up in group B losing to Rhein Neckar Löwen in Germany with only 1 goal difference - 31:30. Tamse's boys were a step away from surprising favored host with Zarabec scoring 8 and Janc, Malus and Mlakar adding 4 each.
Group B standing after first two rounds:
Kielce 4, Vardar 4, Szeged 3, Löwen 3, Celje2, PPD Zagreb 0, Meshkov 0, Kristianstad 0
In the next round Veszprem will travel to Poland to meet Wisla Plock and Zagreb to Sweden to face-off against Kristianstad. Vardar will go to Slovenia for another SEHA derby, this time against Celje PL and Meshkov will host Rhein Neckar Löwen.
Group C has also brought us another SEHA derby of the Champions League with Tatran beating Metalurg at home in Slovakia. Hrstka was leading his team with 6 goals, Vucko, Krok and Rabek added 4 each. Dragas on the other side scored 5 for Metalurg, Taleski added 4, Mladenovic and Obradovic 3 each.
In the next round Metalurg will travel to Russia to meet Chehovskie Medvedi and Tatran will go to Spain to face La Rioja.
Group C standings after first two rounds:
La Rioja 3, Montpellier 2, Chehovskie Medvedi 2, Tatran 2, Metalurg 2, Elverum 1
Group D standings after first two rounds:
Nantes 3, Dinamo Bucuresti 3, ABC/UMinho 2, Besiktas 2, Motor 1, Holstebro 1