Gal Marguc decides the match in Ljubuski
14.09.2016.

•

SEHA GAZPROM LEAGUE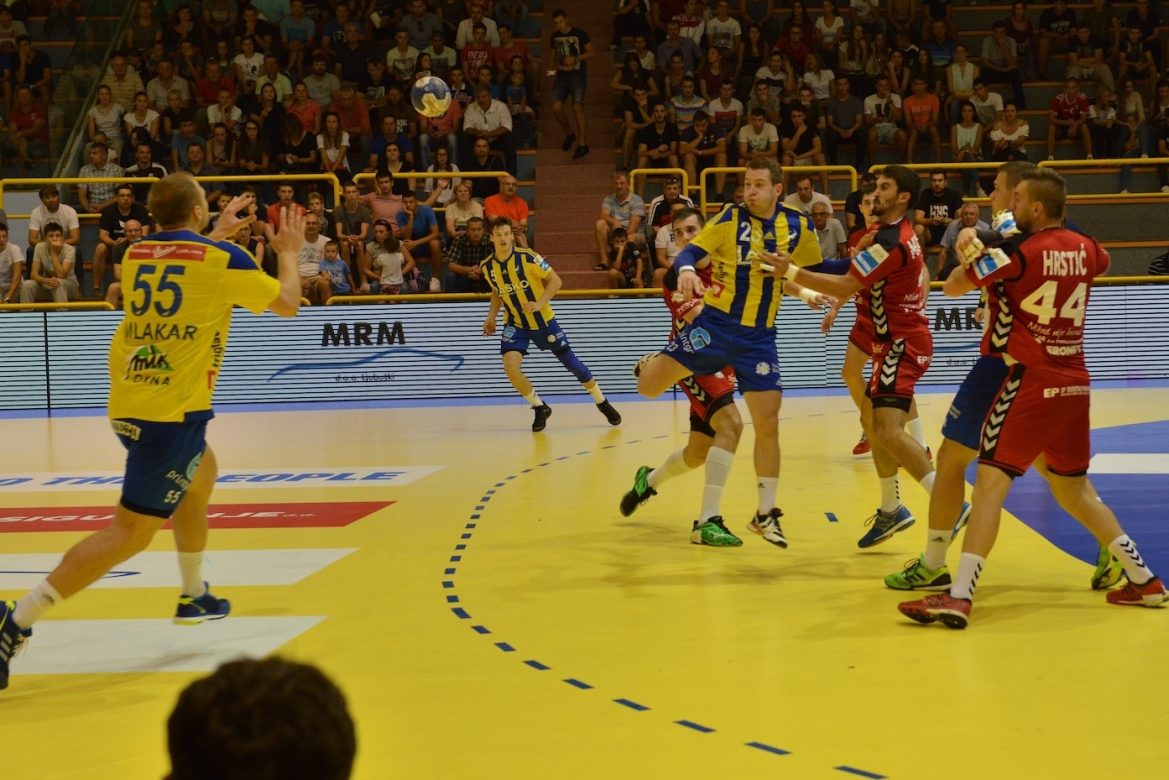 Brilliant performance in SEHA opener in Ljubuski. In front of more than 3.500 fans Izvidjac were a step away from surprising Slovenian champion Celje losing 32:31. Gal Marguc decided the match bringing Celje to +1 after which Izvidjac did not manage to equalize it. Matej Hrstic and Domagoj Sarac were dominating the match but were not able to score a stunner and bring Izvidjac a huge point against favored opponent.
Celje were 15:14 up after first 30 but in opening 13 minutes of the second half Izvidjac delivered some amazing plays enlarging the gap to 5 (25:20). Celje's experience has, unfortunately for home fans, brought them a narrow but important victory in the end. Hrstic scored 8 for Ljubuski and on the other side Janc scored 9, Zarabec 7 along with remarkable Poteko in final minutes.
Celje will with three away wins in a row host Vardar on Saturday and Izvidjac will on Sunday travel to Nasice to meet NEXE.
Zdenko Grbavac, Izvidac CO's coach:
It is not easy to lose the way we did today. We've spoken about this before the match. We missed some experience in the end allowing them to get back in the match with lots of technical mistakes when we were 5 goals up. A team like Celje simply knows how to use it. Our defense lacked focus in final 10 minutes, we were one man down almost all the time. Costly loss due to inexperience.
Josip Sarac, Izvidac CO's player:
Their experience has in the end decided the match and we have a lot to learn from this. It is not good to expect to win matches in this League playing like this. I, however believe this can only help us.
Branko Tamse, Celje PL's coach:
It was amazing to play in atmosphere like this and I would like to thank these people who really seem to enjoy, love handball. Hosts were amazing today playing like it is the last match of their lives and I'd like to congratulate them on that. They've missed experience to finish this match in the end. I have some players who were in Rio during the summer but we are only two years older than them and that's what makes me happy. Izvidjac will make life hard to everyone here in Ljubuski.
Blaz Janc, Celje PL's player:
Amazing atmosphere surprised me. Lucky win, Izvidjac deserved it maybe even more than we did. We have some problems with defense and this is the area in which we still have to work a lot. We have place to improve speaking about defense that's for sure.